Kisoks for Different Needs
Kiosk is a singular term used for multiple types of tech. Designed to address an array of tasks and problems, kiosks are a powerful tool designed to improve service. As a valuable layer of customer-facing tech, kiosks solve many common operational challenges—and some unprecedented ones.
We design and install solutions for Retail, Hospitality, Manufacturing, and Healthcare settings. Whether you need to add customer convenience, minimize cash handling, or maintain new health precautions, we can connect you with the right solution.
Options to fit any operation
Balancing profitability with managing customer capacity and maintaining social-distancing measures is difficult. Create a touchless, automated environment that will be the future's definition of open responsibly.
Link compliance with protocol.
Customer Counter helps mitigate risk by reliably monitoring customer capacity and footfall. This kiosk option encourages social distancing and safer shopping.

Temperature check stations manage and minimize risk with precision. This solution offers a smart sanitized digital solution to accurately link compliance with newly established health protocols.
Indoor interactive kiosks can be customized with components to suit many needs. Interactive kiosks options provide an informative hub.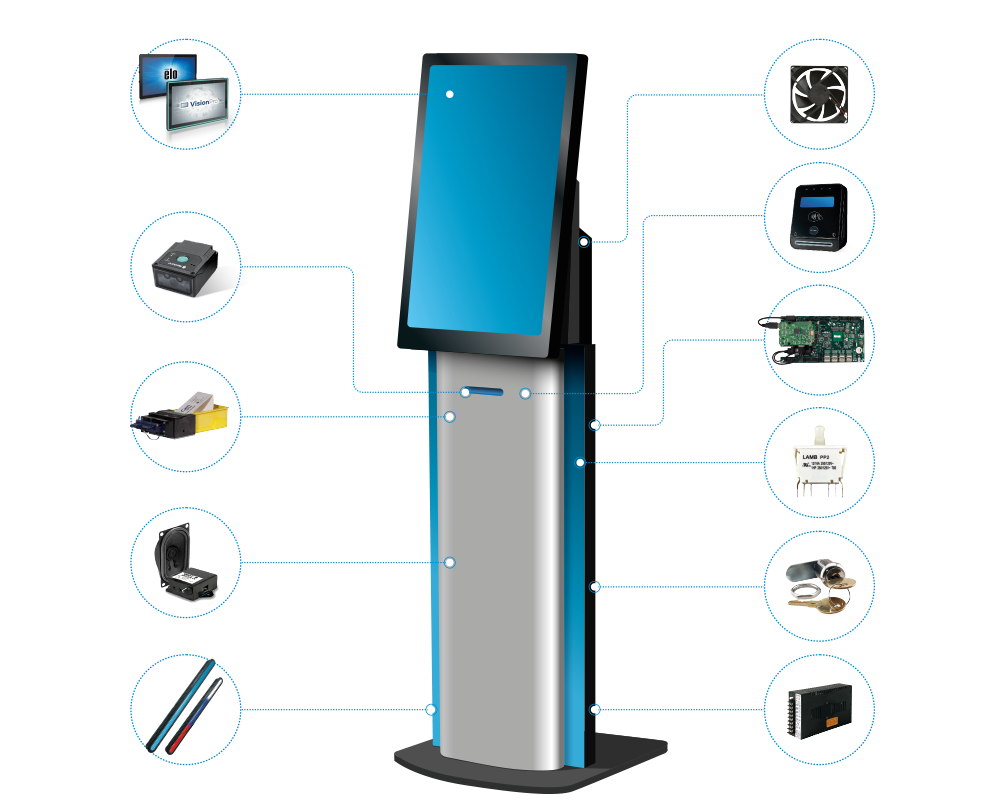 Engage, interact, and inform.
With the increased need now to communicate with patrons and staff, interactive kiosks offer an efficient multitasking solution. Post important notices, improve customer convenience with wayfinding, or feature products and services.
Self-service kiosks improve transaction speed by handling payments and receipt printing. And that is just one way to put this option to use. This solution is also a platform for QSR and Hospitality operations to boost brand loyalty programs.
Customer convenience often means customer control. Kiosks deliver just that, and consumers on average spend 20% more when ordering with a self-service kiosk. Add this versatile option to provide speedy, accurate service and transactions with less employee time.
Average spend per visit when technology is used to place an order.
Cash Management Solutions
Staley Technologies offers a full range of turn-key solutions for cash-heavy retailers to streamline cash management, enhance security, and eliminate loss.