Design, Survey, Installation & Implementation
A robust wireless network provides an increased level of flexibility, compatibility, and security for your retail or hospitality business. Staley specializes in design, installation, and maintenance of networks, as well as end-to-end structured cable system installation.
Experienced WiFi engineers survey and audit the current WiFi environment, create a customized solution and then oversee the installation to completion. Staley crafts solutions for wireless and ethernet cabling systems based on existing operations while leaving headroom for future upgrades.
"The WiFi Industry experiences a seismic change approximately every five years."
Dennis Huang, Ruckus Sept. 2018
Wireless Networks from Start to Finish... From One Reliable Partner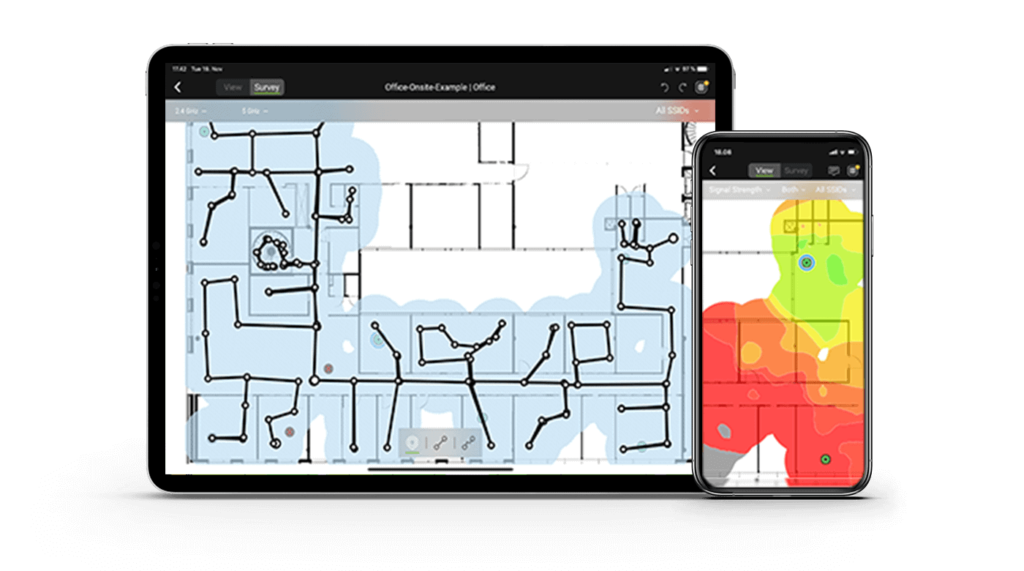 Conducting WiFi heatmap site survey using WiFi mapping software to create wireless design plans.
Licensed and well-versed, Staley has conducted countless wireless site surveys and installs with the following:
Optimal Wireless is the product of precision configuration. Staley can redesign any facility from raw product (mining) through manufacturing to distribution and retail.
WiFi 6 is here, and soon, more devices will be able to connect simultaneously by optimizing WiFi through switching. Our partner vendor, Ruckus, offers an array of products that optimize wireless and wired multi-gigabit solutions. This allows for multi-gigabit access capacity over existing cable infrastructure. A thorough audit of existing devices and cabling can determine the best option available.